Ah, nursing apparel, the sexiest of clothing and undergarments. My husband could barely keep his hands off of me!  Said no one, ever. While nursing apparel ain't the hottest of clothing, your "regular" shirts' collars will thank you.  Like anything related to early infancy, there are a ton of options and things can get overwhelming pretty quickly.  Let's chat about our recommendations! For the purposes of this post, we're going to focus on two types of nursing apparel: Tops and Bras. I sure hope they don't make more than that, like a maternity coat or something but I wouldn't put it past the maternity/baby industry. Anyways, let's just chat quickly about whys of nursing clothing.  The idea here is to ensure 1) quick access to a single boob at a time, 2)  your entire chest isn't exposed to passersby and 3) you skip stretching out your "nice" bras, which in the end may not fit your new post-partum chest anyway (sorry).  Some companies (ahem, that happen to also make breast pumps) barely even try to make their nursing bras and tops look like your clothing of yore, some do a middling job and some (ahem, that charge an arm and a leg) take clothing construction to creative levels to make the piece look like "real" clothes.  Let's start closest to the body and make our way out.
Bras
The options here are overwhelming to say the least. My goal with this post is to point to my favorites, tell you why I like them, and tell you what to look for.
Basic bra
Bravado Essential Embrace Nursing Bra: This one is one I'd file under "utilitarian", and only comes in 3 basic colors, white, beige, and black.  That said, I chose this one for its great construction and durability.  I tried not to go crazy on the nursing bras since its a piece of clothing I was only going to wear for a year and then put away until the next baby. Therefore, I was wearing this one in a small rotation of others so it needed to hold up.  Not to mention it got pulled every time I went to nurse, and that happened 8-20 times a day, I leaked into it, and just overall the frequent washing. The clasp to release the boob panel (the official term for the front of your bra, right), was sturdy but I could unhook it easily with one hand.  One warning though – this one doesn't have an underwire, which I've seen folks here and there complain about anyway, since it could affect milk supply – though I didn't experience that problem.
Economical, but Cute
H&M has some nice options – I'm choosing this bra for its look, however can't vouch for the bra itself.  I can vouch for H&M's "Conscious" line though – they make the softest onesies for the littles, so I'm going out on a limb that this is probably really soft too.
Not Recommended
The Gilligan & O'Malley bras at Target were not good.  You can get more bang for your buck at H&M, and this isn't even worth the $16.99 price tag.  The construction made the straps on my sides, at the rib cage, sag. The clips were flimsy and didn't fit right. The molded cups gapped near my armpits.  Just a big no – I already felt like a cow, I didn't need my bra to make it worse.
Nursing Tops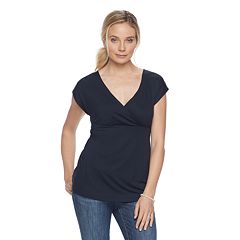 Depending on the season, you can get a mix of tanks, t-shirts or even sweatshirts that accommodate nursing.  You can also invest in cross-over tops, where the shirt style itself allows you to pull out only one boob for the aforementioned reasons, or more button downs (more useful in a pumping situation), or a snap-front shirt like this one from the Gap.  Here are my picks for brands that make a more specialized piece:
Basic Option
Again, I recommend Bravado, and again this is not a sexy piece of apparel. It is so obviously a nursing shirt that it may as well be written on the back, "I feed a human from my body".  That said, for the same reasons I liked their bra, I like this tank.  Another suggestion I got once from a mom – if she didn't want to show the tank off but it was too hot to wear too many layers over it, she just threw a non-nursing tank over it.  Since you only pull down the one side of the bra area, you can just lift your non-nursing shirt and pull down the boob panel and pop the baby on.  That way your belly is covered and you're really only exposing the important bits and pieces, which end up getting covered by the baby's head anyway.
Economical Option
ASOS, which is normally my go-to for trendy stuff online, surprisingly has cute nursing (and maternity) stuff! They also have tops that are engineered a bit differently from your standard nursing wear, so as to not be quite as obvious about it.  Ignore the weird modeling shots they have for their nursing stuff, where they have pregnant models to show the nursing items.  While I know this happens, it just seems like an odd choice since most nursing moms aren't also pregnant, unless it's an accident or they're cool with compounded sleepless nights.
Splurge
Hatch – oh to be a rich fashionista in order to go nuts on this site.  They also have creatively engineered apparel that you can wear while pregnant or nursing (or beyond).  Their ethos seems to be designing clothes that are versatile enough to be worn during any phase of childbearing and rearing.
Obviously the maternity stores like Motherhood Maternity and A Pea in the Pod also have cute stuff, as do the big box stores like H&M and Gap.  In my research I also came across a site called Seraphine, which seemed to have stylish tops too. This is part of the fun, and we really have to hug our poor moms, who did not have nearly the options we had!